What PR Pros Should Be Tracking in Google Analytics
Alicia Lawrence (@alicia_lw) is a content coordinator for  inbound marketing company WebPageFx and blogs in her free time at MarCom Land. Her articles have been published by Spin Sucks, Business Insider, and Business2Community.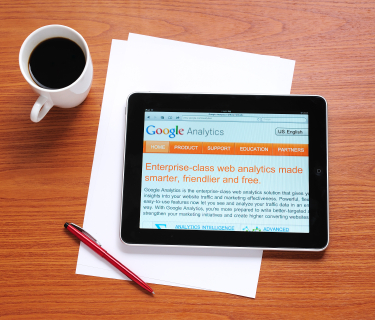 As a PR pro, your ultimate goal is to obtain quality media coverage and create a positive reputation for your business, product or service. So how does Google Analytics play into that goal? With the ability to track engagement, customers, links and coverage – it can easily become a highly valued tool in your trusty PR toolbox.
Here are a few ways to make the most of Google Analytics for PR.
Traffic
It is typically believed that only the SEO team is concerned with the traffic being driven to your website and from where – but it shouldn't be. Not only are PR professionals to be credited for much of that search engine traffic, granted they are securing quality media interviews, but they should also be concerned with the backend of it.
Google Analytics has the ability to track and report which sites your readers are visiting the most and which lead to conversions. Say you found out that the majority of your website referral traffic is coming from a certain online industry magazine. That's a good sign that you should be securing more interviews or mentions in that publication or others in that vein.
The Google Analytics referral chart will also show you the many sites that are linking to your client and from what article or page on that site. The chart will display visits, average time on site, and what percentage of the visits was new. This is an easy way to clip the articles that mention your client as well as put together a report that shows how your hard work has paid off.
What about interviews offline? Yes, you can even track those to a degree. During the week the interview or news story goes live, track if there was an increase in unique visitors to the site or an influx of traffic that day or the day after.
Tracking Campaign Success
While Google's traffic report will be your main source of information, there are other ways to use Google Analytics. For all your major campaigns, PR pros should be using Google's URL builder tool. While not everyone reached through the campaign will use the custom link, it's still a good estimate of the amount of traffic it drove to the site.
The custom link will allow you to see which part of the campaign was most successful and where you should focus your efforts next time.
Put it to Good Use
If you want to be successful with analytics, you must have data with direction. It is important to start out with a clear plan and what a PR conversion looks like for your client. Since public relations has the most effect at the beginning of the sales funnel, a conversion could be an email newsletter sign up or someone downloading their online press kit.
In the field of Public Relations, we pride ourselves on results. If you are running an agency or working to increase an in-house brand, using analytics to help secure and track your goals is essential. Particularly in an agency setting, your clients will love to see reports full of measurable data on behalf of your efforts.